QAM – Quadrature Amplitude Modulation
QAM stands for Quadrature Amplitude Modulation.  QAM combines both amplitude modulation (AM) and phase modulation (PM) to encode and transmit digital information. By varying the amplitude and phase of the carrier signal, multiple discrete amplitude levels and phase shifts can be used to represent different digital symbols or bits. Quadrature Amplitude Modulation (QAM) is also used in medical imaging devices. In medical imaging, such as Magnetic Resonance Imaging (MRI) and ultrasound, complex modulation techniques like QAM are frequently employed to encode and transmit digital information within the generated signals. In the field of MRI, for example, QAM can be used in image reconstruction and processing. The received signals from the magnetic resonance scanner are modulated and demodulated to extract information about tissue properties and generate high-quality images. Similarly, QAM is utilized in ultrasound imaging to modulate and demodulate the high-frequency ultrasound signals. This enables precise visualization of tissue structures and the capture of diagnostically relevant information. In both cases, QAM serves to enhance the efficiency and quality of data transmission and image formation in medical imaging devices. The setup in the image displays laboratory equipment used to implement a QAM modulator.

The objective of this project is to establish a Science-Lab platform to develop and test various applications. An example of this is a band-pass filter, comprised of a QAM modulator, a QAM demodulator, and a complex valued low-pass filter as shown below.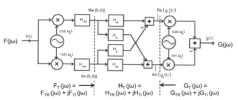 TENS -Transcutaneous Electrical Nerve Stimulation
EMG/ECG/EEG – Amplifier
A  liner is a component of a prosthetic device that is placed between the amputee's residual limb and the prosthesis. It is made of soft, flexible silicone material and serves to provide a comfortable and secure fit. The silicone liner is pulled over the residual limb and forms a layer between the limb and the hard surface of the prosthesis. It creates a soft, cushioned surface that protects the limb from pressure points, friction, and skin irritation. Additionally, the silicone liner can help improve the grip of the prosthesis by providing better adhesion and stability. Liners are available in various shapes and sizes to accommodate the individual needs of the amputee. They can be custom-made or prefabricated and are typically replaced regularly to ensure optimal fit and functionality. In the present project, various materials are being investigated for their suitability as liners. The main focus is on breathability, material softness, and compression under load. In order to meet all requirements, prototypes of multilayer liners are being created and tested. Spacer fabrics play an important role in this process.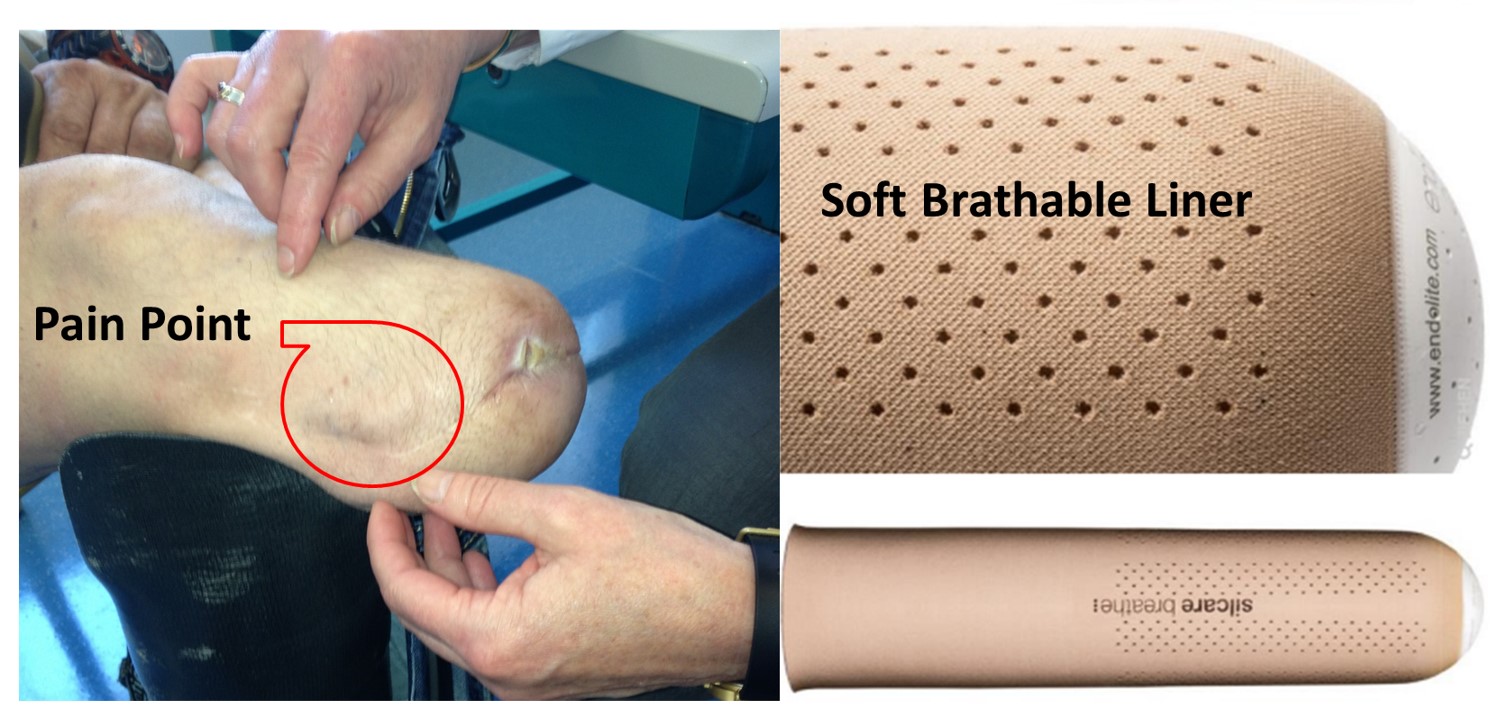 The image above shows a patient with a below-knee amputation. A neuroma has formed in the area of the severed peroneal nerve. This area is perceived as a painful point. Suitable liners are particularly important in this case as they can help alleviate the patient's pain while wearing the prosthesis.
Energy Harvesting – Prostheses

Case study: leg prosthesis that sends feelings to its wearer
The patient Wolfgang R. from Upper Austria underwent "Targeted Sensory Reinnervation" by OÄ Dr. Eva-Maria Baur and OA Dr. Thomas Bauer at the University Clinic for Reconstructive Plastic and Aesthetic Surgery in Innsbruck which is a cooperation partner of the FH Upper Austria. During this procedure sensorial nerve endings  of the original foot were reactivated to serve as an indicator for pressure on the sole of the prosthetic. The main goal of the operation was to decrease pain from neural scarring (neuroma) by redirecting the nerves.Due to the neural interface the patient has feeling on the sole of the prosthetic foot and therefore manages much better to recognize the nature of the ground he is walking on. There is also more awareness of obstacles, which greatly reduces the risk of falling. The re-established transfer of information also contributes to a more natural integration of the prosthesis into the body concept of the patient and, in this case, has led to the complete disappearance of previous long lasting pains. Information for media see DOWNLOAD
Phantom pain investigations due to meteoropathy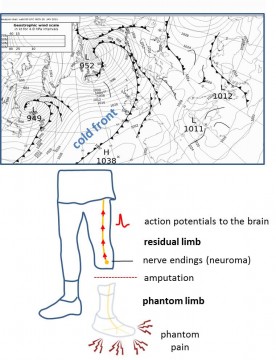 Many amputees may suffer from limb phantom pain symptoms ranging from mild to extreme pain felt in the area of the amputated limb. Residual nerve endings (neuroma) continue to send action potentials to the brain. This leads to a kind of feeling as if the limb were still there. Often, the feeling is so strong or even unbearable that it is being felt as limb phantom pain. Affected people also complain about the limb phantom pain strongly correlated with weather deterioration – a phenomenon which is still unexplored. The goal of the objective project is to find out the primary causes responsible for meteoropathy.
Surface EMG pattern recognition for reliable real-time control of myo-prostheses

As the classification of limb gestures and movements is partly possible with pattern recognition methods, prostheses are being developed using this strategy. However experience has taught us that changes of skin-electrode properties such as skin artefacts due to sweating, skin movement or electrode displacement increase the error rate significantly. Unfortunately, this makes a prosthesis using pattern recognition methods unreliable so that users often wish more simple and robust control methods instead of sophisticated ones. The goal of this project is to design and test surface electrodes delivering signals broadly independent from skin artefacts.
Pattern recognition to improve recognition of co-contraction

Well established myo-prostheses use co-contraction commands ideally given by s1(t) = s2(t) to route the EMG-control-signal to the different joint's motors. Although the method is rather robust once it is learned some users may still have problems to evoke predefined command signals. As the characteristics of real signals depending on the amount, orientation and scarring of the residual muscles strongly vary mainly elderly people can have difficulties to perform the command signals s1(t) = s2(t). The goal of this project is to improve the individual's reliability of co-contraction by using pattern recognition methods.